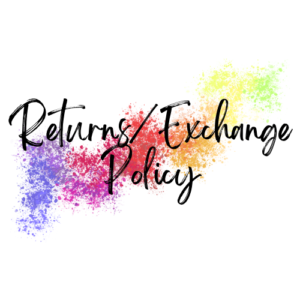 Returns/Exchanges/Cancellations
******Because all items are custom made just for you, we cannot accept returns, refunds or exchanges.********
However, We will refund or replace the item ASAP if there is a mistake on our part. In such case, please send us a proof. (A photo will work)
You will be eligible for refund or replacement if:
Apparel item size is wrong (you ordered size A, we send size B) and you have proof.
Apparel item color is wrong (you ordered color A, we send color B) and you have proof.
Design is wrong (you ordered design A, we send design B) and you have proof.
Item arrives defective or damaged and you have proof.
***Other then the reasons in the list above, we won't be offering refunds or exchanges. Please keep this in mind when placing your order.
Cancelled orders
Blank merchandise orders may be cancelled before shipment is made. A 50% restock charge will apply on cancelled blank merchandise orders. Embroidered, decorated, or personalized items may only be cancelled prior to production. A 50% charge will apply on cancelled orders prior to their decoration.
Inventory
We do not carry inventory on site. When you place your order with us, we order from the vendor and decorate your order upon arrival. Please allow for time for the items to arrive from the vendor, sorting, decoration and shipping.
Online Ordering
By ordering off our website you agree to the following terms and understand that you are placing an order for goods and/or services. You agree to be legally bound and to abide by the following terms. If you do not agree to these terms, this transaction is null and void. Innovations Plus reserves the right, at anytime, to change, modify, alter, or update the terms and conditions, as deemed necessary. By accepting this document, you also agree to follow the terms and conditions set forth by those changes. Any changes or modifications are effective immediately upon notice thereof, as published and/or posted on our website. Thread, ink and garment colors may display differently from screen to screen.
Profanity Policy
It is the policy of Innovations Plus, that we will not produce or letter anything requested by an individual, group or organization containing profanity or lewd images of any kind. This includes the use of vulgar language, derogatory comments, references to illegal activity, disguised profanity or any other language/images deemed inappropriate by Innovations Plus. This policy is non-negotiable.
Returned Checks
Innovations Plus charges a $30.00 fee for any returned checks. Any fees, legal or non-legal, occurred in the collection process will be charged to the party responsible. Orders placed using credits cards/debit cards are also subject to this policy.
Customer Supplied Apparel
Our embroidery and screened prices are higher on customer supplied apparel and we do not replace apparel that may be damaged during the production process.
International Orders
At this time, do we not accept any international orders and do not ship internationally.
Contact us at [email protected] for any further questions